Cisco SPA 303 introduction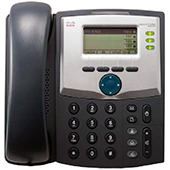 The Cisco SPA 303 IP phone is simple to install, allowing you to add a multi-line desk phone with a large LCD display to your business in minutes. This IP phone is ideal for users like receptionists who handle medium-to-heavy call volume. Features of this IP phone include:
Exceptional voice clarity
Enhanced speaker quality
2-port Fast Ethernet switch with PoE (Power over Ethernet) support
Monochrome LCD display
Three line keys for up to six simultaneous calls
Four soft keys
2.5 mm jack connector for optional headset
For more information about the Cisco SPA 303 IP phone, you can review our user guide.