The Ooma Telo 4G Adapter lets you connect your Ooma Telo Base Station or Phone Genie to a 4G LTE connection. You can use this connection as either a backup or as the primary connection for your home telephone service. The Telo 4G Adapter is installed close to your Telo Base Station or Phone Genie to provide connectivity to your entire Ooma setup.
---
How do I hook the Telo 4G Adapter up to the Telo Base Station or Phone Genie?
You will start by downloading the Ooma Setup app onto your iOS or Android smartphone:
Once you have downloaded and installed the app, open it up and log in using your Ooma phone number or account number and password. Tap the option within the app to configure a 4G Connect Adapter, then use the app to scan the QR code on the bottom of the adapter: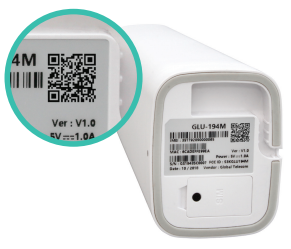 The app will then ask you to select a subscription plan, so read through the options and choose the one that is best suited to your household's needs. Don't worry; you can change your plan later. You can learn more about the data plans here.
That's all you need to do to register the adapter to your account! The adapter connects to the Telo Base Station or Phone Genie with a standard USB cable. Plug one end of the USB cable into the adapter and the other into the Base Station. You can use the any USB cable up to 15' long.
What network does the Telo 4G Adapter use? How do I know if my house has good coverage?
The Telo 4G Adapter uses the Sprint 4G LTE nationwide network. You can visit ooma.com/checkcoverage to check the level of coverage for your address. Keep in mind that this map is a general rule of thumb and does not necessarily reflect indoor coverage.
Where should I place the 4G Connect Adapter in my home to get the best 4G signal?
For the best 4G signal, the Telo 4G Adapter should be placed in an area of your house with good cellular reception such as in a room with a window. It should ideally be located as close as possible to a window. Suction cups may be used to mount the adapter directly against a window. The adapter should not be placed in a corner, against a wall, or within five feet of a large metal object like a water heater or refrigerator.
You can use the signal indicator in the Base Station Setup app to find a good spot with a strong 4G signal. Simply move the Telo 4G Adapter and wait for approximately 10 seconds. The app will show the signal strength of in the adapter's current location.
If you need more assistance placing the Telo 4G adapter, please see your placement assistance article.