Known spammer call blocking
There are some people that you never want to hear from. If you're sick of getting phone calls from telemarketers and other known sources of telephone spam, then known spammer call blocking, formerly known as the Community Blacklist, can help. Designed to block out known nuisances, this type of call blocking can give you peace of mind because you'll know that unwanted phone calls are being intercepted before they can disturb you.
---
What is known spammer call blocking? How does it work?
Known spammer call blocking prevents thousands of phone numbers that have been identified by the Ooma community as known sources of spam and telemarketing calls from reaching you. When you turn on known spammer call blocking, you instantly block phone numbers that the Ooma Community has collectively found to be invasive or annoying. Think of it as putting up an impenetrable wall between your phone and unwanted calls – a wall that is constantly growing stronger as new feedback rolls in.
The list of known spammers is comprised of entries that have been added to custom call block lists and marked as spam by members of the Ooma community. Ooma aggregates that information to keep the list of known spammers as up-to-date as possible. After confirming that widely-blocked numbers are legitimate sources of spam, Ooma adds those numbers to the known spammer list, saving other people the trouble of ever receiving an unwanted call from those numbers.
You can have known spammer call blocking turned on either by itself or in conjunction with the other forms of call blocking. You can also differentiate between what happens to numbers that are blocked depending on why they were prevented from reaching you: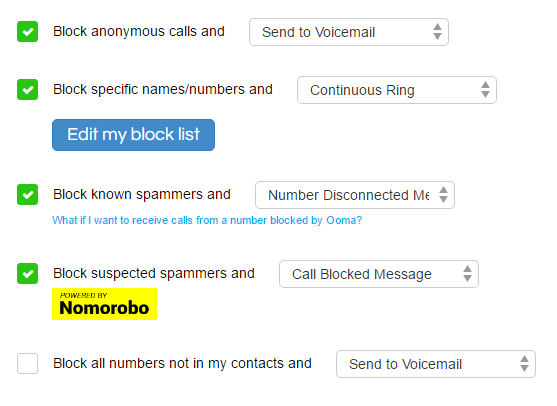 How can I turn on known spammer call blocking?
You can turn on known spammer call blocking by following these instructions:
Log into your My Ooma account and navigate to Call Blocking under the Preferences tab.
Click next to "Block known spammers."
Select from the dropdown to specify will happen to calls that come in from blocked numbers.
Is known spammer call blocking available to all users?
Known spammer call blocking is available to all Ooma Premier members.
What are the different options for what happens to a call from a blocked number?
When you enable call blocking, you get to choose what happens to diverted calls. No matter what you choose, your phone at home will never ring: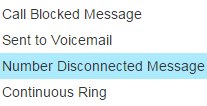 Call Blocked Message will redirect callers to a recorded message informing them their call was blocked.
Sent to Voicemail will send all blocked numbers straight to voicemail.
Number Disconnected Message will redirect callers to a recorded message informing them that your number has been disconnected.
Continuous Ring will cause the call to ring for a period of time and then the caller will hear a busy signal.
If I find that a number I want to hear from is blocked by my preferences, what can I do?
If a number that you wish to hear from is being blocked as a known spammer, you can add that number to your contact list. When a number is in your contact list, it will ring your phones even if it is included in one or more call blocking lists.
Can I suggest a new number to add to list of known spammers?
You can help keep our list of known spammers up to date by following these instructions to add invasive phone numbers to your custom block list. Ooma periodically aggregates the numbers that have been added to many peoples' custom block lists and identified as sources of spam in order to keep our list of known spammers updated.