Yealink EXP20 Expansion Module information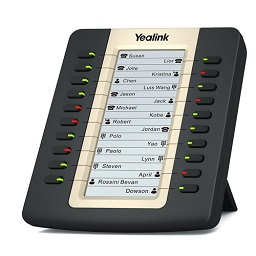 The Yealink EXP20 is a user-friendly LCD expansion module for the Yealink T27G IP phone. It contains 20 dual-color programmable buttons. Each EXP20 button can be programmed to support essential calling functions such as Speed Dial, or Call Park. Up to six EXP20 Expansion Modules can be daisy-chained to a T27G phone for maximum capacity.
The EXP20's expansive screen, added backlight, and dual-color LED buttons provide a rich visual experience, making it easier to access the required call functions when managing a large volume of calls.
Features of each EXP20 Expansion Module include:
20 dual color, LED programmable buttons
160 x 320 graphic LCD with backlight
A variety of graphical icons to visualize call functions such as Speed Dial or Call Park
Up to two EXP20 Expansion Modules can be powered directly by the Yealink T27G
Separate power supply (ordered separately) is required if using more than two EXP20 modules
Compatible with Yealink T27G IP Phone
Stand with two adjustable angles
Note that EXP20 cannot operate standalone and must be physically connected to a Yealink T27G IP Phone to function.
Click a link below for more information: