Ooma Telo Basic Functions and FAQ
Now that you've gotten your Ooma Telo set up, it's time to see what your new system can do! This article is here to help answer some of the first questions many customers have about their new Telo. If you don't see what you're looking for, try searching through the Knowledge Base or posting your questions to our helpful User Forums. If all else fails, you can contact our friendly Customer Care Team who is always happy to answer your questions!
---
How can I make a phone call with Ooma? Do I need to do anything special?
Once you've got your Ooma system set up, there's nothing out of the ordinary you need to do to make a phone call with Ooma. Simply pick up the phone and dial just as you always have. The only difference you'll notice is that you'll hear the signature Ooma dialtone instead of the traditional dial tone you're used to.
How can I answer a phone call with Ooma?
You can answer an incoming phone call with Ooma by picking up the phone when it rings. There is nothing special you need to do.
My dial tone sounds funny. Is this normal?
My dial tone sounds funny. Is this normal? Yes, it is perfectly normal for the Ooma dial tone to sound more musical than the traditional dial tone. Listen for the Ooma dialtone when you pick up the phone - it means that any call in the U.S. will be completely free!
Are there any special dialing rules when I call with Ooma?
If you have selected a phone number from your home area code, you can continue dialing the same way you did with your landline. If you have selected a phone number from a different area code, please keep in mind that the dialing rules may be different in the new area code. You can see if 7 or 10 digit dialing works for local calls in the new area code. Just keep in mind that dialing a "1" followed by the area code and phone number will always work when you use Ooma.
How do I set up my voicemail?
You can start the voicemail setup process by picking up the phone that's connected to your Ooma Telo system and pressing the

button on your Ooma Telo. A series of voice prompts will walk you through the process of selecting a PIN, recording your name, and recording a voice greeting. This process will take approximately two minutes.
Reference: For more information on advanced voicemail setup and voicemail usage, please see our voicemail FAQ.
Do I have to leave my computer on to use Ooma? What happens if my computer restarts?
Unlike some other VoIP solutions, your Ooma Telo does not rely on your computer to work. Instead of installing software onto or plugging an accessory into your computer, your Ooma is designed to act as a standalone device that will be integrated into your home network. As long as you have power and an Internet connection, your Ooma system will work whether your computer is off or on.
What can I do with the buttons on my Ooma Telo?
You can use the buttons on your Ooma Telo to perform a variety of functions, including:
What do all of the buttons on the Ooma Telo do?
The buttons on your Ooma Telo are one of the ways that you can interact with your Ooma service without ever picking up a telephone. To activate a button, simply use your finger and lightly press the button associated with the appropriate icon. The graphic below will give you an idea of what each of the buttons on your Ooma Telo can do: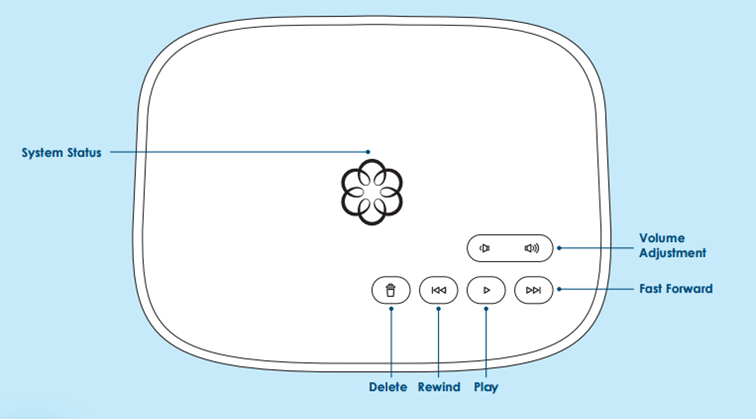 If you need more information about what one or more of the buttons do, you can learn more by reading below.
Page (on rear of Telo)
This button will allow you to page and sync your Ooma Telo system with the Ooma HD3 Handset, HD2 Handset, Ooma Linx, and other wireless accessories. You can find more information about the use of this button in the documentation for the Ooma Handsets or the Ooma Linx.
Volume adjustment buttons ( )
Press the appropriate button to adjust the volume of the speaker in your Telo.
Voicemail control buttons ()
The buttons on the bottom row of your Ooma Telo (Delete, Rewind, Fast forward, Play) serve as controls for your Ooma Voicemail. Your Ooma Telo is designed to play your voicemail out loud at the touch of the

button. You can also use your voicemail control buttons to activate the following features:
Do Not Disturb: Press and hold the button to send all calls straight to voicemail without ringing your phone
Send to Voicemail: Press the button to send a call you've already answered to voicemail
Adjust brightness: Press the when there are no messages playing to adjust the brightness of system status lights
Reference: For more information about how to set up and use your voicemail, you may wish to see the voicemail FAQ.
What does the system status light on my Telo mean?
The color of the Ooma symbol in the center of your Ooma Telo is a quick way of seeing what's going on with your Ooma Telo system:
If the light is solid blue, everything is up and running and your system should be working just fine.
If the light is solid purple, your Ooma service is working and Do Not Disturb mode is enabled. All incoming calls will be directed to voicemail.
If the light is blinking purple, your Ooma Telo is downloading a software upgrade and is not currently functional. Do not unplug your Ooma Telo while it is in this state.
If the light is flashing red, there's something wrong with your Ooma service. This could mean that your Internet is out, or there could be a problem with your setup.
If the light is white, then either your Ooma Telo is not powered on or the system brightness has been turned all the way down.
Reference: If your system status is flashing red, you can find out more about troubleshooting steps by visiting the setup troubleshooting FAQ.
Can I use my Ooma as a speaker phone without buying a handset?
Although you can use your Ooma to screen and listen to voicemails, it does not have a microphone to record your voice. Therefore, you cannot use your Ooma device as a speaker phone to make or receive phone calls.
The play button on my Ooma device is flashing. What does this mean?
When the

button on your Ooma device flashes orange, it means that you have a voicemail. You can play your voicemail by pressing the

button, or by following the alternate instructions in the voicemail FAQ.
The lights on my Ooma device aren't turning on. How do I get them back?
The lights on your Ooma device may be off for a couple of easy-to-fix reasons. First, try these troubleshooting steps:
Make sure your device is properly plugged in
Press the key to see if your device's brightness has been turned all the way down
If these troubleshooting steps don't fix the problem, please contact Customer Care so that we may assist you further.
Can I call 911 from my Ooma phone?
As long as you have power and Internet, you can call 911 from your Ooma phone. Your 911 calls can only be routed correctly if you keep your service address up to date, as outlined in the 911 Service FAQ.
Does 411 work on an Ooma phone?
Yes! You can dial 411 on an Ooma phone, just as you would on a landline. Similar to a landline, 411 calls do incur a charge of $0.99 per call that will be charged to your prepaid account.