Using Homeplugs with Ooma
In some cases, you may not be able to install the Ooma Telo Base Station next to your modem (or integrated modem/router) for the following reasons:
Physical space or location constraints (for example, your modem is in the garage or in a closet)
You want to place your Ooma Telo Base Station in a specific location (for example, in the bedroom, or in the living room)
Your Ooma Telo Base Station is set to operate with your landline (optional), but there is no phone wall jack outlet next to your modem.
The solution is to use a pair of homeplug (powerline) adapters that extend network connectivity through your home's electrical power outlets.
---
More Information on Homeplugs
Homeplug devices should be directly connected to power outlets. They may be plugged onto extension cords, but doing this may reduce the powerline signal strength of the connection. Homeplug devices do not work with power strips, power surge protectors, or UPS (Uninterruptible Power Source) devices.
Homeplug devices work in any home with copper wiring built-in. Since some older houses might have older wiring, homeplugs may not work in these instances.
It may be possible for your neighbors to receive your homeplug signal if they are in adjacent homes or apartments. To prevent this from happening, you should enable the security encryption on each of your homeplug devices by running the configuration utility (probably provided on a CD included with your homeplug device package). Note that it is not required to enable security encryption for your homeplug devices to operate right from the box.
You need two or more homeplug devices to set up a powerline network.
You may learn more here:
Ooma Telo Base Station and Homeplug Devices Setup Options
a) If you have separate modem and router devices, you can connect the Ooma Telo Base Station between the modem and the router.Home plug adapters are used between the modem and the Ooma Telo Base Station, the router is located next to the Ooma Telo Base Station.
This is the recommended setup (over the next one) for best voice quality as the Ooma Telo Base Station can prioritize the voice traffic.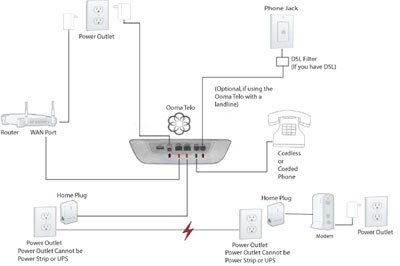 b) The other option is when the Ooma Telo Base Station is connected behind the router or integrated modem/router.
Note: This setup may be more likely to experience lower call quality during peak Internet usage scenarios. To get the best voice quality, Ooma recommends the setup shown in the first scenario.
A Few Homeplug Devices
Ooma Telo Base Station may operate successfully with the following models of homeplug devices. Please note that Ooma has no affiliation nor interest with these products nor their vendors or manufacturers-many more device models will also likely work fine with the Ooma Telo Base Station:
NetGear Wall-Plugged Ethernet Bridge XE102
Actiontec HomePlug Networking Kit
Asus 200Mbps PL-X31/X32