Setting Up Your Ooma Linx
The Ooma Linx is the perfect accessory to expand your home telephone setup. With the Linx device, you have the flexibility to hook up a telephone, fax machine or other telephony device anywhere in your house where you have an available power socket. Set up is quick and easy – you'll be up and running in just minutes.
---
What's in the box?
Your box should contain an Ooma Linx device and a Quick Start Guide.
What do I need to use my Linx device?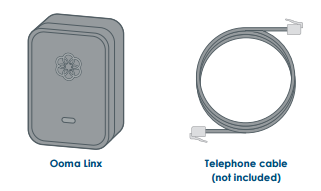 You need an Ooma Telo Base Station that has been installed and is functioning properly. You will also need a phone cord to connect the Linx to the telephone or telephony device you want to use.
How do I set up my Ooma Linx?
To get started, plug the Linx device in to a power outlet close to your Telo Base Station. Press and hold the Page button for three seconds to initiate registration mode. The PAGE button is either on the back or the top-right corner of the Telo Base Station, depending on which version of the device you have (see below):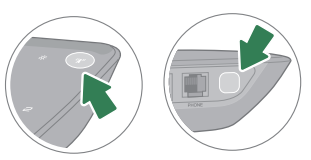 The Linx will detect the Telo Base Station and automatically pair. The system status indicator on the Linx will turn blue when the registration process is complete. If you see the system status indicator alternate between blue and orange, the Linx is downloading a software update. Do not unplug the Linx when it is updating its software.
After the system status indicator has turned solid blue, you can now unplug the Linx device and move it anywhere in your home. Plug a telephone, fax machine or other telephony device into the phone jack on the bottom of the Linx and pick up the telephone. If you hear the musical Ooma dial tone, your setup is complete.
What kinds of devices can I plug in to my Ooma Linx?
Any standard telephone or telephony device such as a fax machine should be compatible with the Ooma Linx.
What are the advantages of using an Ooma Linx?
The Ooma Linx allows you to extend Ooma service to any room in your home. By using an Ooma Linx, you will save the cost and hassle of rewiring your home and you will gain the convenience and flexibility of a telephone extension that can be easily moved anywhere.
What Ooma features can I use with the Linx device?
You can access most standard calling features from the Ooma Linx, including making and receiving calls, joining existing calls, call-waiting, caller-ID, and 911 calling.
Ooma Premier subscribers can also take advantage of the Instant Second Line, virtual phone numbers, private devices and more.
How can I configure the Linx device for a fax machine?
You don't have to change your configuration when you're faxing. Ooma will detect when you are trying to send a fax and will adjust the settings accordingly.