Setting up Ooma Connect as a backup Internet connection
Perfect for customers who want maximum uptime through the combined power of Ooma Connect and their existing Internet service, Ooma Connect can be installed as a backup connection. Better yet, combining this setup with the LTE for Voice data plan will automatically enable the Continuous Voice feature for the best calling experience possible.
You will want to begin by connecting your current ISP's modem or router to the WAN port on the back of the Ooma Connect Base Station. Connect the Ooma LTE 460 Adapter to the LTE port on the back of the Ooma Connect Base Station. Your setup should look something like this: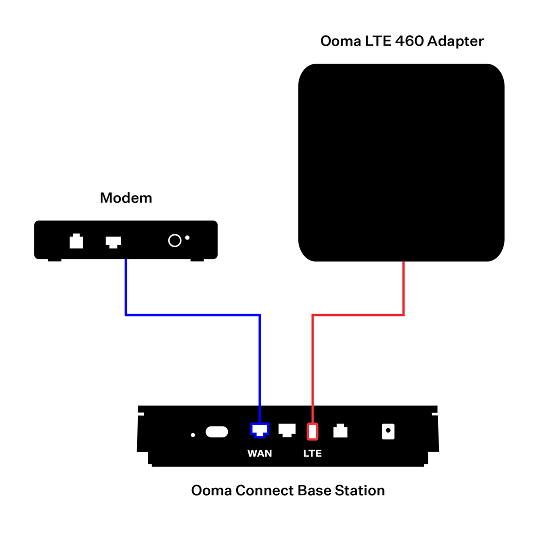 This setup allows Ooma to act as a failover data provider in the event that your primary ISP goes down. Internet data will be sent through your primary ISP by default and will only be sent via the Ooma connection if the primary connection is unavailable. Telephone calls will be sent via both connections, with the Base Station choosing the best packet to create the clearest call possible.
Once you have set up the Ooma Connect Base Station, you will need to connect it to your computers, telephones, and other Internet-connected devices by following the instructions in this article.