Ooma smart camera FAQs
---
About Ooma smart cameras
What are Ooma smart cameras?
The Ooma smart camera is an intelligent, wireless cameras designed for home and office monitoring. The cameras are part of the larger Ooma Home Security suite of products and include several smart home security features:
A 24/7 livestream that you can access from anywhere in the world.
Works during Internet and power outages with built-in storage and battery backup.
Automatic arming and disarming (Premium feature).
Customized alerts for family, friends, strangers - and even pets.
Instant video capture, which allows you to view activity 5 seconds before a triggered event.
Talking and listening features - you can speak directly through the camera during a triggered home security event (Premium feature).
To learn more about the features and benefits of Ooma smart cameras, visit our website or watch the video.
What mobile phone features are available with Ooma smart cameras?
Controlling your home security camera from your smartphone is convenient and easy-to-use, and undoubtedly one of the biggest perks of Ooma smart cameras. There are several great features you can access with your mobile phone through the Ooma Home Security app, including:
24/7 live-streaming audio and video from anywhere in the world.
Timeline history, and the ability to go back as far as 90 days (depending on your subscription plan).
Downloading and sharing video clips.
Two-way talk (Premium feature).
Arming and disarming Ooma Butterfleye cameras remotely.
Geofencing: This feature automatically arms or disarms the camera as the owner enters the room (Premium feature).
Wireless setup and programming of each camera.
Tagging the name of various people in the home or workplace (Premium feature).
Low-light recording (second-gen camera only).
Local network streaming (LAN streaming) so that the device can connect directly to the camera without the need for an Internet connection.
Flitering events on your timeline (by face, sounds, etc.).
Scheduling alerts: Program the camera to only send you alerts during certain times and days of the week.
Check the camera's battery status.
Sign up, change or cancel your membership.
Add or pair new cameras.
To learn more about how you can use your smartphone to power your home security system, watch the video.
What is the difference between the Ooma Smart Cam and the Ooma Butterfleye camera?
There are multiple differences between the two models. The most notable differences are that the Ooma Smart Cam slightly smaller and lighter, has low-light vision from its infrared sensor, and is rated for both indoor and outdoor use while the Ooma Butterfleye camera is rated for indoor use only.
Can I have a first-generation Butterfleye and a second-generation Smart Cam on the same account?
Yes. You can sync one or more of each camera type to the same account, up to a total of six cameras.
What is the refund policy?
If you are the original purchaser of an Ooma smart camera and you are not 100% satisfied with your product for any reason, you may return it in its original condition within 30 days of the original purchase and you will receive a full refund.
How many Ooma smart cameras can be added to a single account?
You can connect up to six cameras per account with a premium plan subscription. A premium plan that supports the maximum number of cameras starts at $9.99/mo.
Can the app support multiple users?
The app can support up to six users. Follow thes instructions to get other users set up:
Ask your family member or colleague to download the Ooma Smart Cam app on their smart phone.
Share your Smar Cam account's login credentials so they can log into the app.
Once the new user has logged in with your credentials, they will have access to your camera's motion clips and Faces tags via the Smart Cam app.
What can I use Ooma smart cameras for?
Ooma smart cameras can be used in a variety of home security and office security applications. Activity Based Recording (ABR) is our patented technology that makes the camera only record when something unexpected happens in your home or office. This way, you are not scrolling through hours of meaningless video - you only get video footage of the events you care about, and can also customize your search features. Ooma cameras are a great smart home and office security choice for several use cases, including:
Home security applications
Keeping track of when your kids come home from school while you are away or at the office.
Using Ooma Butterfleye technology to customize alerts for friends, family and strangers.
Monitoring home security events directly from your smartphone.
Using Ooma Butterfleye as a nanny cam.
Checking in on your home while you are on vacation or a business trip.
Office security applications
Creating notifications for employees, clients, delivery personnel, and office visitors.
Monitoring video footage from potential office break-ins.
Checking in on your office while you are on vacation.
What kind of warranty does Ooma provide?
Ooma provides a 30-day money back guarantee for all cameras. If you aren't 100% satisfied with the product, contact us within 30 days for a full refund. We also provide a 1-year product warranty. If anything goes wrong, please contact us and we will try our best to resolve whatever issue you are having.
What if my Ooma Smart Cam is stolen?
If your camera is stolen, please file a report with the police and send us proof of the filed report. We will send you a new camera at no charge. If your camera was active when it was taken, you may be able to obtain the last video clip to potentially help the police in their investigation.
Installing your smart camera
Where should I install the camera?
The Ooma Smart cam can be installed nearly anywhere. Most users choose to locate a camera in areas that they'd like to monitor, like the front entryway, back door, or a busy hallway. It is not suited for large rooms like an auditorium.
What is the camera's field of view?
The camera can detect motion up to 15' away. Its field of view is 45°. The camera's image clarity will be excellent if it records within this range: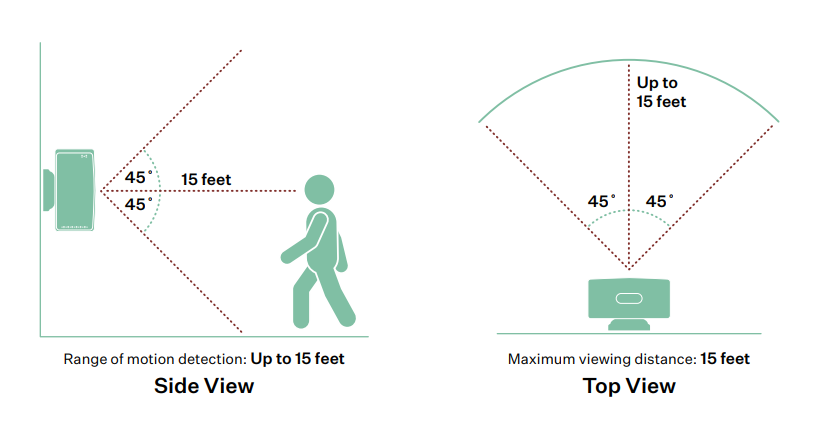 At what height should I mount the camera for optimal facial recognition?
The Ooma Smart Cam's facial recognition performs best when the camera is mounted approximately 5' high, which is the average eye level.
Do Ooma smart cameras work outdoors?
The first-generation Ooma Butterfleye is an indoor camera.
The second-generation Ooma Smart Cam is an indoor/outdoor camera rated for temperatures between -10 °C and 45 °C (14 °F to 113 °F).
Are there mounts for Ooma smart cameras?
Yes, there is a mount adapter available for purchase on the Ooma website. The mount adapter attaches to any Ooma camera magnetically. It can also be flat-mounted against a wall with included screws.
The adapter also features a tripod screw thread on the bottom for attachment to any commonly-available security camera mount (sold separately and required for usage if not flat-mounted).
Do I need an Internet connection to use Ooma smart cameras?
Your Ooma cameras will need an Internet connection for viewing live video and uploading video footage. Each camera has built-in storage that lets you record events even if the Internet connection is interrupted. Videos will be uploaded when a connection becomes available.
Ooma cameras can also connect directly to your smartphone without needing an Internet connection.
How do I connect an Ooma smart camera to my Wi-Fi network?
It's very easy to monitor your home through Ooma - all you need is a smartphone and a Wi-Fi connection. To connect, select the desired network and enter its password (if necessary) via the app on your mobile device.
From there, you can view saved and live video, watch the livestream 24/7, talk and listen through camera, and automatically arm and disarm your home security system based on your GPS location.
Is there a way to extend my router's Wi-Fi range while I'm installing a smart camera?
When it is installed within range of a standard Wi-Fi network, Ooma Smart Cam works perfectly. If your camera is installed far away from your home router, the Wi-Fi signal strength may decline. Poor Wi-Fi signal can heavily impact your connectivity with the Smart Cam, preventing you from receiving notifications on your phone in a timely fashion.
To avoid this situation, we recommend installing a Wi-Fi Extender. Wi-Fi Extenders maximize your Wi-Fi signal strength to can cover up to 6500 square feet. We recommend using the Linksys AC750 Boost Dual Band Wi-Fi Range Extender.
Does "wired" mean that the camera can use a wired Ethernet connection instead of Wi-Fi?
Wired and wireless refers to the option to plug the camera in or have it draw power from its internal battery. With average use, the camera's battery life can last several months.
How portable are Ooma smart cameras?
Ooma smart cameras are the most portable and versatile security cameras currently available on the market. They feature rechargeable batteries that provide multiple weeks of battery life depending on usage, and they don't require a hub. Take Ooma with you anywhere you have home monitoring needs or leave a camera plugged in to a static location - the choice is yours.
What kind of Internet speed is required for Ooma smart cameras?
The Ooma Butterfleye cameras require minimum upload and download speeds of 2 mbps per camera.
For example, you will need a minimum of 6 mbps of upload speed on your wireless network to support three Ooma smart cameras in your home.
Using the reset switch
Ooma Smart Cam is a smart camera that relies on a strong Internet connection. If your Internet connection is unstable, your Smart Cam may have trouble working consistently. If your camera is not syncing consistently, be sure to start by checking your Internet speed and making sure your camera has the correct Wi-Fi settings.
If your Internet connection is strong and your camera is still having trouble connecting to Wi-Fi or is displaying an offline message, you'll need to use the reset switch to delete the camera's Wi-Fi settings so you can reconnect it with your network.
Follow the instructions below to use the camera's reset switch:
Turn the camera off by pressing on the physical button on the top of the device. The status light will blink red three times to indicate that the camera has successfully shut down.
Carefully open the silicone cover on the back of the camera where the charger cable plugs in
The reset switch is located to the left of the micro-USB slot in a small hole
Push the reset switch by inserting a paper clip into the tiny hole and holding it there until the camera turns on
Relaunch the Ooma Smart Cam app on your phone
Tap the camera's gear icon and select Wi-Fi-Preferences to select a wireless network for your camera
Your camera is now ready to capture videos and to Livestream.
Please note that using the reset switch only resets the camera's Wi-Fi settings. Your motion events and detected faces won't be deleted from your account.
If you still need help, please contact our Customer Care team.
Removing an Ooma Smart Cam
Cameras can be removed from an account they have been paired with. When a camera is removed, all motion events and alerts that have been detected and recorded by that camera will be deleted from the account. When the camera is removed, it can be paired with another account for further usage.
Before you remove your camera from your account, please make sure the following conditions are met:
The Camera is online and connected to the cloud
Live Streaming works with no lag
Once you've confirmed that your camera is in proper working condition, follow these instructions:
Open the Ooma Smart Cam app
Tap the gear icon of the camera you would like to remove
Scroll to the bottom of the page and tap "Remove Camera"
You will see a confirmation message. Tap the Remove Camera button to confirm that you want to start the camera removal process.
Remember, all timeline videos and faces that were recorded with this camera will be permanently deleted and removed from your account.
Once the camera is removed, it can be added to a different account. Make sure to wait at least five minutes after removing the camera from one account before you pair it with a different account.
If you still need help, please contact our Customer Care team.
Battery life
How long does it take to recharge the camera?
It takes 4-5 hours to recharge the camera completely. You can check the battery charge on the camera details page of the Ooma Smart Cam app.
The battery life is listed as three months with average use. What is considered average use?
Average use assumes that your camera records for approximately approximately ten events per day and that each event is about ten seconds long with both video and audio. Extreme weather and livestreaming can both reduce the camera's battery life.
What kind of battery does the Ooma Smart Cam have?
The camera has a 6000 mAH Lithium-Ion battery that supports cold weather.
Using your smart camera
Do alerts go to your Smart Cam App?
All alerts for both iOS and Android users go to the smartphone as notifications. Please make sure to enable notifications in your mobile settings.
How do I access videos with Ooma smart cameras?
Ooma smart cameras automatically upload videos to the cloud. Those videos are viewed through the camera's app.
If you are a Ooma Home Security customer, you may access the videos through the Ooma Home Security mobile app.
How can I download a captured timeline event video from the camera app?
Tap the three dots on the right side of the desired video clip and select the option to share or download the video. You will see a message that says, "Your Timeline Video is getting ready to download."
Tap the three dots again and once again select the option to share or download the video. If the video is ready for download, you will see a sharing and download popup.
Tap the "Save Video" option to download the video to your device. If this is your first time downloading a video, the app will ask for permission to access your photos. Once you have granted this access, the video will be saved to your device's downloads folder.
Can I use my cell phone to monitor my camera in real time?
You can livestream from any of your cameras using the app on your smartphone.
Do Ooma smart cameras record audio as well?
Yes. You can also use the smartphone app to talk to people in the room where your camera is placed. Ooma smart cameras include half duplex 2-way audio capabilities with a speaker and microphone.
Not only can you chat with people in the room where the camera is placed, but you can speak out and warn others if you see something that isn't right.
How do I update my Ooma smart cameras?
The Ooma engineering team releases new software updates from time to time. These updates are always free and you are alerted on your smartphone.
To update your camera software, simply press the "camera software up to date" button located in the camera detail page (the "gear" icon on the top right corner of the app).
Note: If the "camera software button up to date" button is grayed out, your camera is already up to date with the latest software.
Free and premium plans
Are video clips automatically deleted after my plan's date limit?
Yes. Once a clip is older than your plan's limit, it is deleted.
Does Ooma charge for image storage? If so, are the charges per camera or per account?
Ooma offers seven days of free storage. If you would like to increase the length of time that videos are stored and gain access to premium features, we offer the following plans:
$4.99/mo. for one camera for 30 days
$9.99/mo. for up to six cameras for 30 days
$29.99/mo. For up to six cameras for 90 days
Can I increase my storage space on my free account?
We currently allocate 5 GB of storage space where your clips from the past seven days are available for you to view. If you have constant motion events being recorded, the allotted space may run out. If you subscribe to our monthly $5 account, you will never encounter this issue again.
Is the camera's memory storage upgradable?
No. The device's 16 GB drive is built in and cannot be upgraded.
Ooma offers three cloud storage options to supplement the camera's built in memory:
7 days (free)
30 days ($4.99/mo. or $9.99/mo.)
90 days ($29.99/mo.)
You can upgrade or downgrade your plan within the app with no long-term commitment.
Troubleshooting
What do the different LED colors on the smart cameras mean?
There are many LED colors that will indicate several different things about your camera. Here is a list of those different LED colors and what they mean: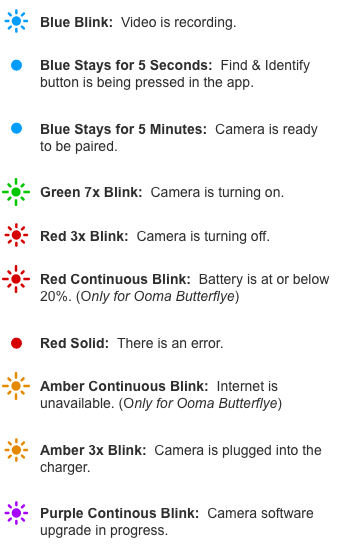 My Wi-Fi is intermittent - will that affect the camera's performance?
No. Ooma smart cameras are designed to work through Internet and power outages - in fact, it's one of biggest perks of becoming an Ooma customer.
The cameras will still continue to record during during power and Internet loss. They will store all of the recordings until connection is restored. You can connect via Wi-Fi or LAN.