One of the most important steps in establishing your business's identity is selecting the primary phone number that will be associated with your Ooma Office system. With Ooma, you will have the option of selecting a new phone number, or transferring your existing phone number.
---
What are the options for selecting a phone number?
During the final step of the activation process you will be asked to select a phone number, as shown in the screen shot below. You will also repeat this process when you add additional capacity to your Ooma Office account. You can take this opportunity to select a new permanent phone number that will become part of your business's identity.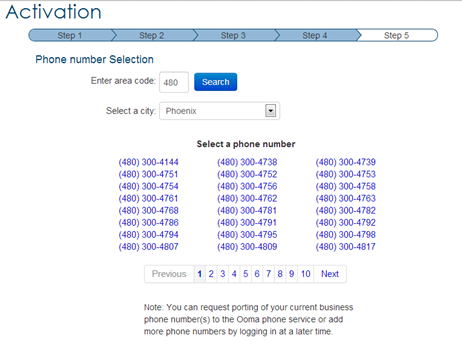 If you have already established a business presence with an existing phone number you can choose to port that number to Ooma. Even if you are planning to port your current number, however, you must select a temporary number during the activation process to use while you wait for the porting process to be completed.
Am I guaranteed a phone number in my local area code?
There is a very good chance that you will be able to select a phone number within a local area code, but Ooma cannot guarantee that you will be able to find a phone number in your desired area code.
Can I choose a toll-free number (800, 855, 866, 877, 888) for my business?
You may select a new toll-free number once your Ooma Office account has been created, but it cannot be used as your primary business number. You can also contact Ooma support to port an existing toll-free phone number to Ooma. Toll-free phone numbers include 500 minutes of free inbound calling with additional minutes being billed at 3.4 cents/min.