Once you have gone over the contents of the Ooma Office box, your next step is to complete the online activation process. The Quick Start Guide included in the box contains an overview of the entire setup process to help you get started. This FAQ has additional information that may also be helpful to you during online activation.
---
Things you'll need to get started
Before you get started, you will want to make sure that you have the following on hand:
Credit card and business billing information
Seven-digit activation code located on the bottom of your Ooma Office Base Station
Initiating Online Activation
Once you're ready to activate your Ooma Office Base Station online use your preferred web browser to navigate to the Ooma Office Manager at http://office.ooma.com. Click the box labeled "Activate your new account," and then follow the steps outlined below: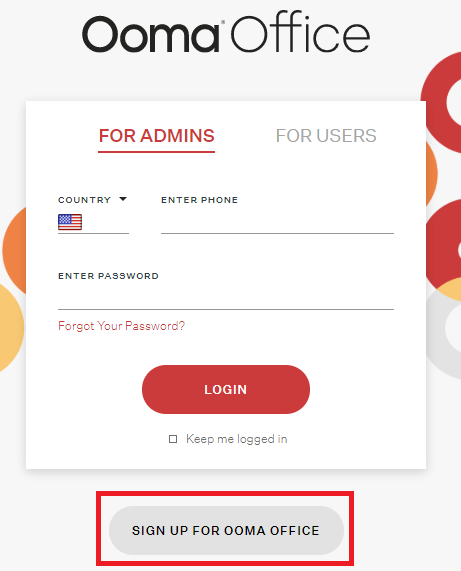 Click on the Activate button to get started activating your device
Step 1. Next, you will be prompted to enter the seven-digit activation code on the bottom of your Ooma Office device: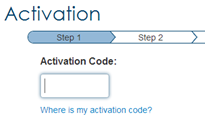 Enter your device's activation code
Step 2. You will then be prompted to enter your contact information. This includes the full name, email address, and telephone number of your Ooma Office account administrator. You will also choose a password for your Ooma Office Manager account.
Step 3. The next step in the activation process asks for information about your business, including your business address and some information about the type of business the Ooma Office device will be serving.
Step 4. Now you will choose a phone number for your business. Enter your local area code in your city to find available phone numbers. If you have an existing phone number for your business you can port it at a later time. Once you have selected a phone number, you will choose a caller-ID name that will display whenever you use your business phone to make an outbound call. Your caller-ID name can be up to 15 characters long.
Step 5. The final step in your activation process will be to enter the credit or debit billing information for your business.
When you are done, click "Activate" to finish the activation process. At this time the email address you entered during activation should receive an email containing the PIN for your first extension's voicemail account. Make sure to save this email, as you will need your PIN to configure your voicemail.
You will see a configuration summary of the information you entered during this process. You may wish to save a copy of this page for your records.
Why do I have to provide a debit or credit card to activate my account?
This billing information that you provide during setup will be stored in your Ooma Office Manager account. It will only be used to bill your recurring monthly subscription fees and any one-time purchases that you make.
Is there anything else that I need to know about selecting a phone number?
Selecting a phone number is an important part of the activation process. Your phone number will represent your business, so you want to choose carefully. If you have questions about the phone number selection process, you may wish to review our phone number selection FAQ.
Can I skip a step in the activation process if I don't have the information available?
Each step in the activation process asks for mandatory information that is needed for the initial setup of your account. You are free to skip any optional fields, but you must complete the required fields in each step before you can move on to the next step.
What can I do if I accidentally entered incorrect information during activation?
Don't worry! All of the information that you enter during the activation process can be updated later in your Ooma Office Manager under the Account tab.