Ooma Internet Security overview FAQ
When you subscribe to Ooma Internet Security, powered by Zscaler, you are committing to improving the security of all Internet traffic that goes through your network. Ooma Internet Security offers several layers of filtering and monitoring to stop threats to your computers and personal information before they reach your home. With plenty of configuration options, you can set up Ooma Internet Security to keep out the content you don't want while letting through the content that you find acceptable.
---
What is Ooma Internet Security and how can I use it to protect my home?
Ooma Internet Security is comprised of several different layers of protection that each target a different type of threat online. You can turn each of these components on or off to suit your household's needs. Below is a brief overview of each part of the Ooma Internet Security suite of features:
How is Ooma partnering with Zscaler to deliver Ooma Internet Security?
Trusted by governments and Fortune 50 companies worldwide, Zscaler is a leader in cloud-based enterprise security. By partnering with Zscaler, Ooma Internet Security monitors and protects your Internet browsing activity by harnessing a threat database that is built by scanning 30 billion transactions per day and continuously updated to capture evolving threats. Ooma is the first company to bring Zscaler's enterprise-class intelligence and technology to consumers
Is Ooma Internet Security protection available to everyone?
Any Ooma customer with an Ooma Telo can subscribe to Ooma Internet Security.
How much does Ooma Internet Security cost?
There are a number of different subscription options for Ooma Internet Security. Please see the chart below to help you select the plan that is right for you.
Service Level
U.S.
Canada
Basic
$5.99 / month
$59.99 / year
$7.99 / month
$79.99 / year
Premier
$3.99 / month
$44.99 / year
$5.99 / month
$59.99 / year
How can I subscribe to Ooma Internet Security?
You can subscribe to Ooma Internet Security by following these instructions:
Log into My Ooma and navigate to the Add Ons menu
Click on Ooma Internet Security
Click "Add to Cart"
Review your order, and then click "Submit Order" to enter your payment information and finish the checkout process
Once I have subscribed, what do I need to do to get started?
Ooma Internet Security should be available for you to start setting up within a few minutes of completing your order. Upon activation, you will be redirected to the Internet Security Setup Guide, which will help you configure your service. You can also configure your service under the Internet Security tab in My Ooma.
In order for all Ooma Internet Security features to work properly on your network, you should make sure that your Ooma Telo is configured to be at the head of your network by following the instructions below:
Locate the Ethernet cable that connects your modem to your router. Unplug the modem end of the cable and plug it into the HOME port of the Telo
Use the Ethernet cable included with your Telo to connect the INTERNET port of the Telo to your modem
Reboot your modem and router
Your final setup should be similar to the image below: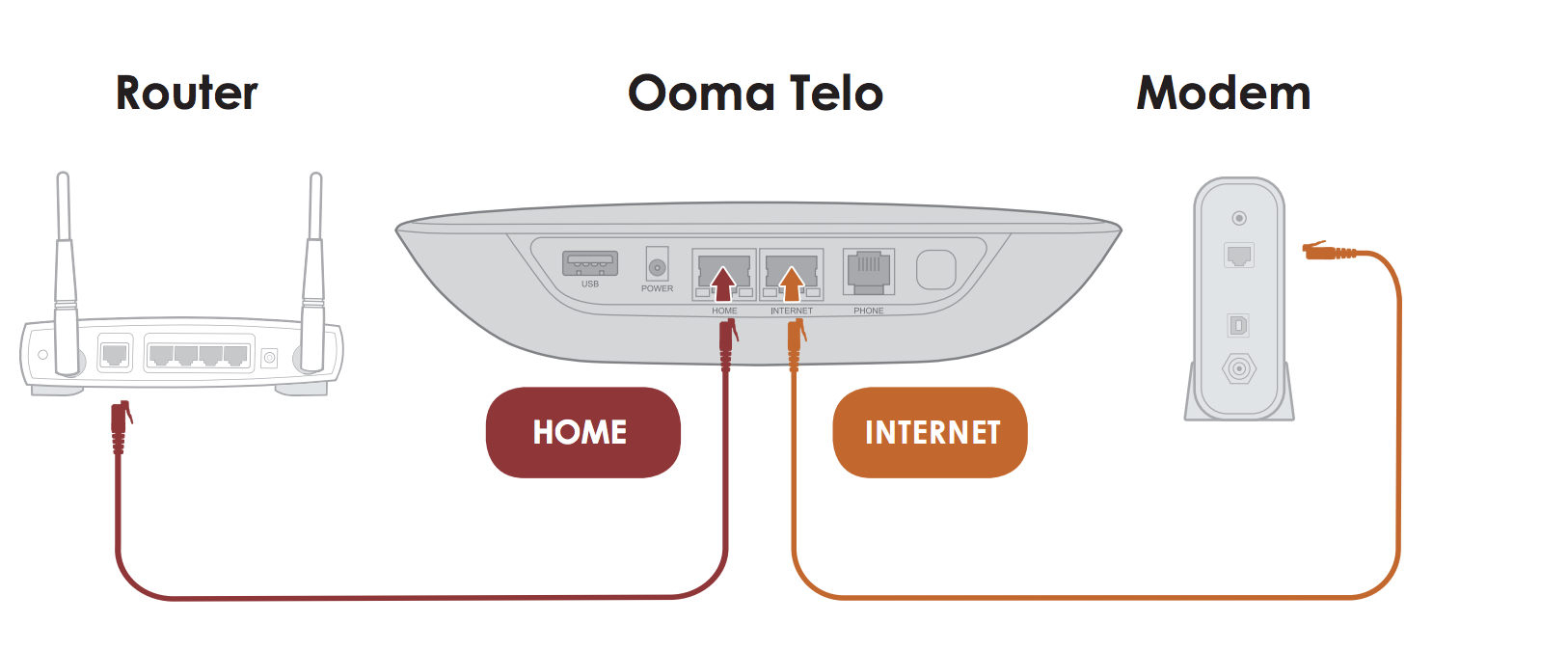 How many devices can Ooma Internet Security protect?
You can protect an unlimited number of devices with Ooma Internet Security. Just connect your devices to your home network so that they are behind your Telo, and they will be protected.
Is Ooma Internet Security compatible with my home's static or custom DNS?
No. If your home has a static or custom DNS setup, Ooma Internet Security will override it and cause it to function improperly. Please disable any static or custom DNS setup that you currently have in order to be protected by Ooma Internet Security. You may need to manually remove any custom DNS information and change your settings to obtain DNS servers automatically.
Will Ooma Internet Security work if I am connected to a VPN?
A VPN, such as a corporate VPN for your workplace, will override Ooma Internet Security and will cause it to function improperly. Please disconnect from the VPN if you want to be protected by Ooma Internet Security.
Does Ooma Internet Security track my Internet browsing? How do I know that my browsing history is safe?
Ooma Internet Security keeps a running log of your browsing data from the last 30 days so that it can provide that information to you. Ooma does not otherwise use, store, distribute, or sell your household's Internet browsing data.
Will Ooma Internet Security affect the Internet speeds on my network?
Ooma Internet Security will have a minimal effect on your Internet speeds. Your Ooma Telo can support connection speeds of up to 100 Mb/s, which will not limit most users' Internet connections.
How can I tell if Ooma Internet Security is functioning correctly on my network?
Once you have finished setting up Ooma Internet Security, you can determine if it is functioning correctly by visiting the following test site to view the status of your service: oomainternetsecuritytest.com.