When the telephone rings, you want to know who's on the other end. If you have a Basic account, you'll only see the phone number that's calling – a real hassle if you don't have all of your loved ones' phone numbers memorized! Even if you have Ooma Premier, the national caller-ID database can sometimes be incorrect or have cryptic abbreviations. By using the contact list feature, you'll get personalized caller name information on your phones and unlock all kinds of advantages beyond better caller-ID. Your dashboard, call logs and voicemail box will populate real names instead of phone numbers anywhere that phone numbers are used in your My Ooma account. With personal aliases like "Mom" or "Grandpa," you'll never have to wonder who's calling. Best of all, Ooma Telo Handsets users can sync their contact list to their Telo Handsets for easy dialing!
---
What are the advantages of setting up my contact list?
There are a number of reasons to set up your contact list. Most importantly, your contact list will supplement the caller-ID that Ooma provides to give you more complete information about incoming calls.
Premier Ooma Premier customers can eliminate unwanted phone calls by turning on contacts-only calling, which prevents numbers that are not in their contact list from ringing through to their phone. Premier customers can also add numbers to their contact list to prevent them from being diverted to voicemail due to their call blocking settings.
How do I get started setting up my contact list?
When you're ready to get started, you can start adding people you know to your contact list by logging into your My Ooma account and visiting the Contacts tab (

). You should see an interface that is similar to the one pictured below:

How do I add a contact to my contact list?
There are many different ways of adding people to your contact list:
With the button on the contacts interface.
Importing contacts from 3rd party application and services.
Through the call logs interface under the Home tab. You can learn more about our call logs by visiting our FAQ.
Add button
You can add contacts to your list by clicking the

button on the contacts interface (shown above). A new window will pop up on your screen with informational fields that you can choose to fill out about your contact: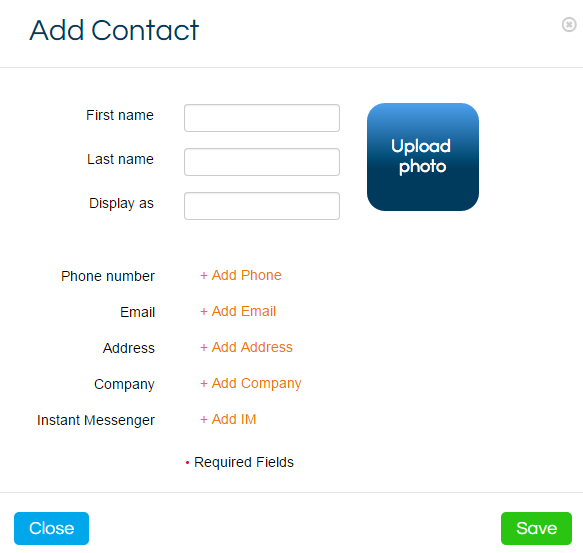 Don't worry if you can't fill all of the fields out – all of the information you provide is optional. And Ooma will never share this personal information with any third parties. Your information is safe with us!
When you're done, hit "Save," and voila! The next time your contact calls from the phone number you've listed, the name you've specified will pop up on your caller ID screen!
Importing contacts
You can import contacts from 3rd party application and services such as Microsoft Outlook through the Contacts interface by clicking

in the contacts interface.
Note: You'll need to follow the instructions from Microsoft to export your contacts as a .csv file to upload if you're using Outlook as your source.
Through the call logs interface
The call logs interface contains an option to add a caller to your contact list. Simply find the number that you'd like to add and then click on the

button in the same row.
How do I modify a contact?
You can modify a contact by first finding the contact's name in your contact list, and then clicking on the corresponding

icon.
How do I delete a contact?
You can delete a contact or contacts by selecting the check-boxes next to the names you wish to delete from the main Contacts page. Once you've selected the contacts you want to delete, click the

icon at the top of the Contacts page.
You can also delete a single contact by clicking on the

icon on the same row as the contact that you wish to remove.
How do I sync my contact list with my Ooma Telo and my Ooma Telo Handset?
There are a few different ways that you can sync your contact list:
You can select the option from the menu on the main Contacts page.
You can sync directly from your Ooma Telo Handset by pressing "Menu", then "Service Settings", then "Sync Config" on the handset.
Note: It may take a few minutes for your contact list to finish syncing with your Ooma Telo and/or your Ooma Telo Handset.
Once you've synced your contact list, the information you set up will be used for all incoming calls on your Ooma Telo. If you own an Ooma Telo Handset, you'll also be able to access your contact list through your handset (just press the Image key on the right side of the phone's navigation pad) – you'll have a homemade phone book!
Once I've set up my contact list, do I have to do anything else to see who's calling?
You will need to sync your contact list with your Ooma Telo before you'll be able to receive that information about incoming calls.
Can Basic customers access the full contact list feature?
Yes! Your contact list will be fully accessible no matter what type of Ooma account you have.
Premier: Ooma Premier customers who do not use an Ooma Telo Handset can relax a little bit when setting up their contact lists. Remember – with advanced caller ID, Ooma does most of the work for you by showing more information about incoming callers!
I've set up my contact list but it's not working for incoming calls. What's wrong?
The contact list works online for all users, but the Ooma Hub is not able to process contact list information into real-time caller ID for incoming calls. This feature is only available to Ooma Telo users.
How can I manage my contact list once I've set it up?
Once you've set up your contacts list, you can always make changes to it by visiting the Contacts page.
Is there a limit to the number of contacts I can have?
Yes. There is a limit of 1,000 entries in your contact list.